Tips from Valtek™
Choosing an Emergency Vehicle Bodyshop
or "Why? We just buy new!"
At some time, anyone who puts vehicles on the road is going to need to have the vehicle body repaired. Fire and emergency response departments are no exception. How should you go about obtaining repairs which restore and enhance your department's equipment?
Whether confronted by the most common accidents, torn off cabinet doors, bashed beavertails and mashed door mirrors, or something more serious; exercising your professional judgment and diligence is called for. You demand a lot from your vehicles and should put some of the same effort into repairs that you put into deciding on a new purchase. A few hours at the beginning can prevent years of regret.
Bodyshops specialize in the safety, structure and appearance of vehicles. Some also rejuvenate worn or pre-owned vehicles: door hinges that are bent; cab doors that don't close the way they should; cabinets and fenderettes that are starting to rust; getting rid of the safety yellow you hate for a new white over red color scheme. Like many tasks you don't perform often, finding a bodyshop can be a little intimidating, but you know more than you think.

As with any contractor you might employ, check on experience and references in repairing fire equipment. A quick tour of the repair facility is important. Obtain a copy of the insurance certificate and get a detailed estimate. References should be enthusiastic. The facility should be designed to repair trucks and well organized. The insurance certificate should be easy to obtain and the estimate should be clear, detailed and understandable.
Questions you should be asking:
"How much?" and "how long?" are the hardest to answer accurately. Check with the bodyshop's references to see if their job came in anywhere near what was estimated both in time and in money. If not, are they satisfied with the reasons why? When evaluating the estimate, make sure you understand the work that is being described. Is everything you need done listed? If you are comparing more than one estimate, are the same items and tasks included in both? A good body shop will explain any differences in price or procedure; and, you should satisfy yourself that what is needed, is what is being done.
Obtain an insurance certificate, not just an assurance that it exists - after all, you are putting a valuable piece of equipment in the bodyshop's care for a while. If the bodyshop has a fire, theft or vandalism incident, will your town's losses be covered? Do they have reasonable precautions against these problems? (a sprinkler system, a secure, monitored storage yard and building)

Special Equipment Needed:
At reputable bodyshops, vehicles are painted in a spray booth that is specifically designed to filter particulates from the air before it is released into the neighborhood. In addition the incoming air is filtered to keep dirt and dust out of the new finish. The best spray booths are heated to assure that the paint is applied at the best temperature and cures properly.
Many spray booth's are not large enough to handle a large Sport Utility Vehicle, let alone a fire truck or ambulance. Know your vehicle's height and width before you go inspect a shop. Some will tell you that they just paint inside their shop or worse, outside. CAUTION: Even if this wasn't illegal, it means that the shop must wait until the weather is good before they can spray the paint, which will delay your equipment unnecessarily. It also means that unwelcome dust and dirt will blow onto your new paint job and stick, although the paint might not.
Heavy duty frame equipment capable of repairing large and rugged commercial chassis is often needed. Welders which can repair aluminum and stainless as well as steel must be present for proper repairs on many emergency vehicles.
[Back to Top]
Personnel
Are they experienced in repairing fire trucks? Again, references are key. Sometimes fire companies give their bodywork to a local shop thinking they are doing a buddy a favor. Often the buddy would rather they didn't. Trucks are a pain to handle for the average car body shop. Ask your buddy candidly if he really wants the job or if he has someone he'd recommend instead. Can the body shop handle your truck and keep the rest of its business alive? If it's a two man show and your job is going to take six to eight weeks to finish, is he going to go out of business before your job is done? Or will he neglect your truck to keep his cash flow from cars coming? Does he mind if you come in periodically for a progress check?
Paint:
Contrary to popular belief, the brand of paint is only one important consideration in ensuring a top quality finish. Preparation is the key to a durable and attractive paint finish able to withstand the twin tests of a water-soaked harsh existence as well as the critical eyes at a parade.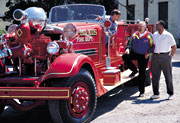 There are several fine paint manufacturers in the market. Make certain that the brand and type of paint is listed in your quote. Each manufacturer has several grades of paints and primers. Fire truck paint is expected to stand up to heavy wear, so usually the highest grade is called for. A clear coat is often added for additional durability and easy maintenance. Good bodyshops will have literature from the manufacturer to assist your choice.
Ask if a warranty is available.
[Back to Top]
Parts:
Fire truck and ambulance parts are notoriously slow to arrive. The manufacturers put a priority on production and delivery of complete units and only make parts periodically. Ask your bodyshop to order parts in advance and notify you when they arrive so that your vehicle isn't tied up as long. Most will do this if they receive a parts advance from your town or insurance company. Will the shop be able to fabricate obsolete or difficult to obtain parts if necessary?
Pick up & delivery:
Will the bodyshop pick up and deliver the unit to your firehouse? Will you need to find volunteers to travel to the shop? Some fire companies prefer to pick up and deliver their vehicles and others find this a hardship. Find out if you have the option.
Payment:
Who's paying for the work? The fire company? The town? An insurance company? Is it work that needs to be bid? Often an independent appraiser for the insurance company or administrator (if the town is self-insured) will be sent to see the vehicle. BE CAREFUL! Often appraisers are not experienced in evaluating fire trucks or emergency vehicles and will overlook significant damage. Even if you are very knowledgeable about body repair times and techniques, have your body shop negotiate with the insurance company on your behalf. The insurance appraiser's purpose is to settle your claim for the lowest price they can; the bodyshop is responsible for your satisfaction with their repairs and service. An insurer can not force you to use a repair facility you are not comfortable with. You must authorize any repairs and must agree with the final settlement in order for the body shop to be paid.
Some bodyshops need to be paid in advance, some require progress payments, some will only release your vehicle with full payment by bank check, some will extend credit to your town or insurance company if they have a voucher or purchase order. Ask before you begin the process and you will save yourself and the repairer many headaches.
[Back to Top]
Add-ons & updates:
Bodyshops should be willing to estimate the cost of updating sirens, light bar fixtures or mountings while your rig is disabled. Ask questions about these items at the beginning of the process. A good bodyshop can make slight modifications to repair vexing small problems which can be readily addressed while your truck is in the shop.
Restoring an existing truck compared to a purchase.
Sometimes, whether because of economics or sentimentality, the fire company reviews restoring a working truck. All the procedures for a choice of repairer come into play and are even more important. If your rig is mechanically sound and can serve your needs, fixing problems on your existing truck can extend the life of the unit, and improve safety and morale. You'll save the time needed to retrain personnel on new equipment, fix the quirks on the old one and have time to raise money and design the addition to the firehouse that you'll need when you finally DO buy a new one.
[Back to Top]
Problems:
Even under the best of circumstances mistakes can be made and misunderstandings can occur. The references should be able to tell you if problems were resolved to their satisfaction. Your written quote will serve as the ruler against which performance can be measured. A reputable body shop will do all it can to make you happy. Most depend on word-of-mouth for advertising and everyone knows bad news travels faster than good.
Do not forget common sense. The simplest tests are often the most telling. Call the bodyshop you are considering using. How long does it take for your call to be answered? How long does it take for your questions to be answered? Are they as professional in their business as you are expected to be in your emergency response?
Checklist:





References




Tour of facility




Insurance certificate




Security system




Clear, complete estimate




Paint booth large enough to handle vehicle




Heavy duty frame repair equipment




Shop large enough to handle vehicle




Aluminum welding




Steel welding




Reputable brand & grade of paint




Literature to assist choice




Warranty available




Experience with fire trucks




Advance parts ordering




Pick up & delivery service




Payment options




Responsiveness
[Back to Top]